Finding without seeking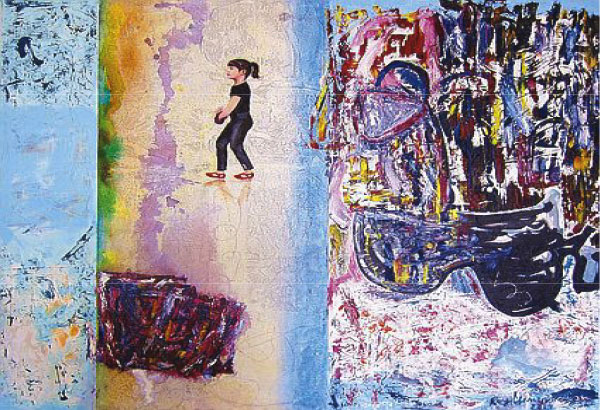 MANILA, Philippines – Over the past 40 years, artist Roy Veneracion (also known as the father of Ian Veneracion) has constantly amazed and challenged his audiences with mind-bending solutions to art that places you beyond the comfort zone of the familiar, urging you to think beyond your current boundaries. In the mid-Eighties, Roy began exploring a hybrid art technique in which he combined figure painting with abstraction, resulting in what he calls "Syncretism Art." Coming close to the brightly-colored optimism of US West Coast Abstraction, Roy's "Syncre Art" uses surrealist themes, timely headlines, and biographical references as a means of making art relevant to today's audiences by engaging them in a conversation about life, politics, the environment, and how much more enriching and liberating an open mind will always be.
In his latest exhibition "Finding Without Seeking" (Altro Mondo Arte Contemporanea Gallery, 3F Greenbelt 5 Mall, from May 5 to 22), Roy recuperates his experimentations with free abstraction with his latest Syncre paintings to assert the view that art for him will always involve the unpredictable, the refreshing, and the revealing. A response to Pablo Picasso's claim that "I do not seek, I find," Roy's artworks revel in the assertion that true art will always come from experience and revelation, and thus art becomes manifest only when you realize it — thus, art is found, rather than sought after. This recourse to experience should be seen as a consequence not only of the veteran handling of techniques and materials, but also a well-attuned mind that keeps on generating new vistas of hope, humor, and meditations on existence that goes beyond simplistic thinking, and engages in the eternal questions of faith, love, and life's purpose. 
"Tele-transported Visions from A Parallel Universe" reveals this multi-dimensional goal for Roy's Syncre Art. A large square canvas is subdivided into smaller squares and rectangles, each having its own set of bright colors and shapes, unified by the throbbing set of rings that serve as the "wormholes" through which one imagines traveling between different universes. The psychedelic use of bright greens, blues, and oranges contrasted with browns and blacks, done in both color-field appliques and improvised brushwork hint at the universal conflation of forms and experiences that Roy aims to achieve in this work. On the other hand, "Beauty Queen-Eros & Thanatos" harks back to an old European formula called the memento mori, or reminder of death, when a live person is juxtaposed with a skull in order for us to remember life's fleeting transience. In this case, it is a nude beauty queen — whose crown makes her familiar to us as Miss Universe — as she confronts a skeletal version of herself, set within a landscape of red in between a blue sky-stripe and a black subterranean city. The title also alludes to a psychological source, the "death drive" that Freud locates in our subconscious as the seat of hatred, anger, envy, and aggression.
On the other hand, "Reclaiming Territories Along Hypnotic Parallels" goes back to a more serene psychedelia of late Sixties Abstraction, when subject matter became acceptable once more as topic, thanks primarily to Roy's UP Diliman education under National Artist Jose Joya. Bands of yellow, red, and green are subsumed under a square blue sky punched by another yellow square, resulting in a harmony of color and shape that spiritually uplifts. The opposite direction is suggested by "Their Cultural Pretensions Equal Their Blindness," where a rain of black, red, green and blue pours from a tan sky, overwhelming a small portrait of a 1940s cartoon broad in the middle to suggest cultural philistinism and the rush to social status that money is supposed to buy.
All in all, "Finding Without Seeking" recaps Roy Veneracion's recent forays in abstraction and Syncre Art to tell us that we do not need riches so much as an enlightened mind to be truly happy.